For the criminal gang, see The Brotherhood.
Brotherhood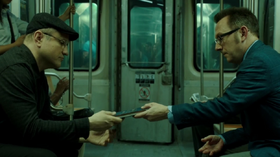 ---
---
---
---
---
---
---
---
ID(s) from Intro
ID.404/1014.14-1 (Malcolm)
ID.404/1014.14-2 (Tracie)
"
It's a tricky business, playing a game in which you're unsure of the pieces.
"

— Elias
""Brotherhood" is the fourth episode of season 4, and the 72nd produced hour of Person of Interest. It originally aired on October 14, 2014.
Synopsis
Reese's cover job as a detective at the NYPD becomes complicated when the young brother and sister he's protecting become targets of a gang investigation.
Origin of the Title
While the title refers ostensibly to the name of the gang in the story arc, it also serves to describe the relationship and the bond that has been created between Harold and Elias.
Main Plot Points
The events in this episode are in Machine point of view.
Person of Interest: Tracie and Malcolm Booker, siblings who stole drug money from The Brotherhood.
The Brotherhood, a violent street syndicate lead by Dominic, is introduced.
Dominic's identity is revealed
The team found a way to solve their financial problem by robbing from a criminal organization
Episode Notes
Harold presents Elias with a first edition of H.G. Wells' 1897 novel The Invisible Man. One of Wells' trilogy of science fiction novels, The Invisible Man tells the story of a scientist named Griffin who changes the refractive characteristics of the human body to those of air, thus making himself invisible. However, once accomplished, Griffin is unable to reverse the process.
Production Notes
Bloopers and Continuity Errors
Ending Scene has a DEA agent breathing after being previously shot.
Music
"Gun" by Emiliana Torrini (closing sequence)
Trivia
Quotes
"All right, I'll play you for it. Hopscotch." (Reese, to Queen Bee)
"Don't go hurtin' yourself, old man. Want us to drop a dime? It's gonna cost ya." (Queen Bee, to Reese)
"Guy like you in your line of work... you know a killer when you see one, right?" (Shaw, to Mini)
"Wanna be the man, you gotta have a plan." (Malcolm)
"You wanna be the man? Start taking care of your family." (Reese, to Malcolm)
"You tell me what I want to know, it's a pit-stop. You don't... it's your final resting place." (Shaw, to Mini)
"We're gonna play hide and seek. Don't worry, I'm really good at this game." (Reese)
"Remind me to stop inquiring about your modus operandi." (Finch, to Shaw)
"You can't make something right by doing something wrong." (Reese, to Malcolm)
"Release Detective Riley and forget about the Booker kids. Or I huff, and I puff, and I burn your house down." (Shaw, to Link)
"It's a tricky business, playing a game in which you're unsure of the pieces." (Elias, to Finch)
"And in this game, I fear losing is not an option." (Finch, to Elias)
"Only one rule... We all die in the end." (Dominic, to Link)
Media
References
Community content is available under
CC-BY-SA
unless otherwise noted.