Diane Hansen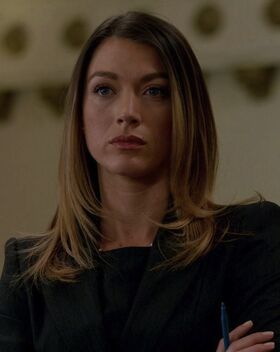 ---
---
| | |
| --- | --- |
| Status | Alive (Most likely incarcerated) |
---
| | |
| --- | --- |
| Occupation | Assistant District Attorney |
---
| | |
| --- | --- |
| Residence | New York, NY, USA |
---
| | |
| --- | --- |
| Origin | Brightmoor, Michigan, U.S. |
---
---
---
---
Diane Hansen is an Assistant District Attorney whose Social Security number was the first given to Reese and Finch by the Machine.
Character Background
Diane Hansen grew up in Detroit, and moved to New York City after law school.
Hansen previously dated James Wheeler, however, they eventually broke up.
Despite being the Assistant District Attorney, Hansen formed a partnership with corrupt police officers of the NYPD who would frame innocent victims for the group's crimes, who Hansen would then prosecute.
One case involving Lawrence Pope caught the attention of the Machine, which alerted Finch and John Reese. Together, they followed her and kept her under surveillance. Believing her to be in danger, Reese followed Hansen to a meeting with Stills and the other corrupt cops, where he learned of her true nature, and of her involvement with Pope's death. Reese was caught by Lionel Fusco, who was tasked with getting rid of him. Hansen instructed Stills and his men to "take care of" a threatening Wheeler.
The attempted murder failed due to Reese's intervention. During another court session, Reese replaced a recording of a police phone call with that of Hansen ordering her men to murder Wheeler. Hansen caught a glimpse of Reese as he left, moments after the entire court learned of her criminal side.
She was later arrested and convicted by fellow Assistant D.A. Landon Walker. ("Bury the Lede")
Trivia
In the episode's official press release, she was listed as Diane Bray. Character names under go a clearance process, at which time the producers must determine that a character is common enough or unusual enough that it cannot be associated with one individual living in or around the city in which the show is set. In this case, the name was most likely changed because it did not clear.