Fusco's Doll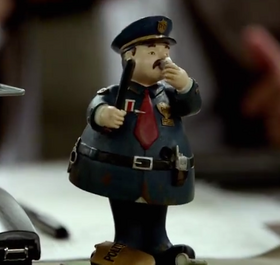 ---
---
---
---
---
---
---
Fusco's doll is a small bobblehead police officer on Fusco's desk in the 8th Precinct. Sent as a gift from Finch, it is equipped with a hidden camera which was originally intended to keep an eye on Carter. ("Get Carter")
When Carter's number came up, Reese had to protect her without revealing his identity, as Carter was still pursuing "the Man in the Suit". So, to make sure Fusco's association with Finch and Reese would not be exposed either, Finch came up with the idea to hide a small camera inside a toy doll which Fusco would put on his desk. When Fusco received the doll he told Carter that it was a gift from his son.
Using the bobblehead, Finch was able to determine the threat to Carter's life came from her investigations into HR, Elias or any other gang-related crimes.
After being transferred to the 8th precinct as part of his "John Riley" cover, Reese plays with the doll on Fusco's desk. ("Wingman") The doll has never been explicitly mentioned in episodes after "Get Carter", until Finch revealed its camera was still active, and watching Fusco, in "The Devil You Know".
In "Reassortment" Fusco gets frustrated with the secrets the team is keeping from him and cuts ties with them, asking for a new partner. When Fusco tells Reese this, he pointedly throws away his doll as a sign of his severing ties with the Team.
Gallery