Get Carter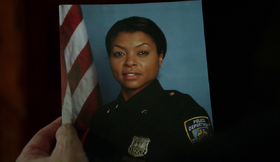 ---
---
---
---
---
---
---
"
I'm a cop. My life's always in danger.
"

— Carter
"Get Carter" is the ninth episode in season 1, and the ninth produced hour of Person of Interest. It originally aired on December 8, 2011.
Synopsis
Reese and Finch's game of cat and mouse with Detective Carter becomes infinitely more complicated when The Machine declares that she is their newest POI.
Origin of the Title
The episode borrows its title from the 1971 urban drama Get Carter, which stars Michael Caine, although the two share no plot similarities.
Main Plot Points
Person of Interest: Joss Carter, an NYPD detective who is targeted by Carl Elias when her investigations begin to threaten his criminal enterprise.
Taylor Carter, Artie Lynch and Gianni Moretti are introduced.
Bernie Sullivan's murder is solved.
Carter's professional and personal life is revealed: her former career as a military Warrant Officer and her motivation to become a detective.
Flashbacks
The are several flashbacks to 2004 when Carter was in Afghanistan interrogating s suspect for aiding Al Qaeda. The way Carter deals with the man shows her integrity and true goodness of character. In the end, she finds others do not share her sentiments, but she is always true to herself.
Carter's reason to become a police officer is revealed - she felt guilty for the death of an informant.
Episode Notes
The exterior shots of the Iraqi Forward Operating Base are actually scenes from the Valley of the Kings in Egypt.
The scene with Carter & Mrs. Kovach in the precinct was part of the Pilot script (though the storyline ended there).
Around the middle of the episode, in one of the Machine's screens, a huge poster with the IFT logo can be seen, with the message "It's all in the details".
This is the first episode the Person of Interest is a person from the main cast (Joss Carter), followed by "

Zero Day

" and "

The Crossing

" (Caroline Turing and Sameen Shaw wasn't billed as Main during the episode they became Person of Interest). It is highly implied that Carter's number is the number that Finch failed to answer in "

The Devil's Share

".
Production Notes
Bloopers and Continuity Errors
Music
Featured Locations
Main article: List_of_real-life_locations#1x09_-_Get_Carter
The Fort Totten tunnels (in Queens), part of a decommissioned Army Base within the city limits, serve as a the location for an Iraqi Forward Operating Base as established in the opening shot.
The filming took place on location on October 21, 2011.

Stills of Fort Totten Tunnels/Interior of the Forward Operating Base Complex
Figures (b)-(e) are the "Interrogation Room" of the Forward Operating Base. Figures (f) and (g) are the unadulterated images of the "Interrogation Room" which are referred to in combat engineering parlance as a casemate, a reinforced room used either for munitions storage or as an artillery emplacement. Figures (h)-(j) are the tunnel corridors.
Trivia
Quotes
"I got a pretty big gun." "Man as angry and bitter as you are... I got a feelin, it ain't that big, Eddie." (Carter)
"She's not just another number, Finch.Some people the world can't afford to lose." (Reese)
"What is wrong with you!? You don't get to decide who lives and who dies." (Carter)
"That's a homicide waiting to happen. Thought I would try to stop one for a change." (Carter)
"I wouldn't expect any Father's Day cards" (Carter, to Don Moretti)
"Go ahead, spin that yarn: Dazzle me!" (Carter, to Hector)
"I didn't know you were into dolls, Finch." (Reese)
"As you know, I collect rare books, Mr. Reese, 180 gram vinyl, and Xerox Alto, when I can find one." (Finch)
"Detective Carter doesn't understand the rules. She's bad for business." (Lynch, to Fusco)
"We got into this to stop bad things from happening to good people. Carter's been doing that her whole life. She's not just another number Finch. There's some people the world can't afford to lose." (Reese)
"Someone gift-wrapped him for us!" (Fusco) "Yeah, that seems to be happening a lot lately." (Carter)
"You want to stand on your high horse, go right ahead. But don't expect me and my men to back you up. Its a long war... and you're all alone." (Sgt. Harris, to Carter)
"I'm glad you took my advice about wearing that vest Detective. I know this doesn't change anything. I know you'll still arrest me if you get the chance. But you should know, whether you like me or not Joss, your not alone." (Reese, to Carter)
"Tell Elias that if he so much as touches Detective Carter again, I will put him, you...everyone in the ground. You got that?" (Reese)