Graham Wyler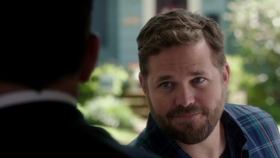 ---
---
---
---
Occupation
Hardware store owner
Safe cracker (former)
---
| | |
| --- | --- |
| Residence | Rockaway, NY, U.S. |
---
---
---
Graham Wyler, whose real name is Lloyd Pruitt, is the husband of Connie Wyler and the father of Izzy Wyler. He is a former jewelry thief and safecracker who now runs a hardware store with his wife.
Character Background
Wyler was part of the crew including Chris Vaughn and Daniel Burnside. He walked away from a heist job he deemed too risky while the rest of the crew went through with it and were arrested. He changed his identity from Lloyd Pruitt to Graham Wyler and married Connie. 14 years later, his old crew found him and forced him to help them with one last job in return for the safety of his family. Reese was able to rescue him, and his old crew was arrested. However, Graham decided to stop running and turned himself over to the police. He turned state evidence for a reduced sentence, had to wear a security bracelet, and was confined to house arrest as the judge didn't deem him a threat to society. He later thanked Reese for helping him and said that he was surprised that Connie still loved him and decided to stay even after what he had put her through.