Legacy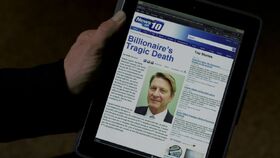 ---
---
---
---
---
---
---
---
"
Everyone deserves a second chance.
"

— Andrea Gutierrez

"Legacy" is the 12th episode in season 1, and the 12th produced hour of Person of Interest. It originally aired on January 19, 2012.
Synopsis
When Carter finally comes face-to-face with Reese, he urges her to join forces to help with their latest POI, a scrappy young woman from the wrong side of the tracks who turned her life around and became a lawyer.
Origin of the Title
The title of this episode could be a nod to the computer term Legacy.  A legacy system is an old method, technology, computer system, or application program, "of, relating to, or being a previous or outdated computer system." Often a pejorative term, referencing a system as "legacy" often implies that the system is out of date or in need of replacement but is too widely implemented to do so.
It could also double a nod to Nathan Ingram's death and what he would leave behind for his son to inherit.
Main Plot Points
Episode Notes
Production Notes
Bloopers and Continuity Errors
Trivia
When Carter gets into a taxi its sign says off duty on the top but they still give her a ride.
According to Andrea Gutierrez's bank statement, the events of this episode start on January 18, 2012.
Quotes
"I looked for a sorry-I-got-you-shot card but they were all out" (Carter)
"Those CIA boys spend a lot of time learning to be invisible" (Reese)
"I had to run two lights just to make sure my own people weren't trailing me" (Carter)
"You can have your rules. And you have a chance to save a life" (Reese to Carter)
"Getting paranoid, Carter. That's a step in the right direction" (Reese)
"You look worried. Did your tailor move out of town?" (Reese to Finch)
"Everyone deserves a second chance" (Andrea)
"So much for not dropping any bodies" (Reese)
"I give you an address and you promise no one will get dead, and what happens?" (Carter)
"Your good at this Carter." (Reese) "It's my job. And I don't even have to shoot anyone to do it. (Carter)
"Now, most of it, I don't understand, get lost when it comes to computers, like you, right?" (Will Ingram to Finch) — "Right." (Finch, chuckling)
Community content is available under
CC-BY-SA
unless otherwise noted.