Jurassic World: Dominion Dominates Fandom Wikis - The Loop
Play Sound
Liberty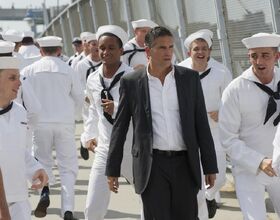 ---
---
| | |
| --- | --- |
| Air date | September 24, 2013 |
---
---
---
---
---
"
Fleet Week! An annual deluge of drunken sailors that somehow does not qualify as a military attack.
"

— Finch
Season Premiere. "Liberty" is the first episode of season 3, and the 46th produced hour of Person of Interest. It originally aired on September 24, 2013.
Synopsis
The Machine, now completely self-governed with its whereabouts unknown, resumes giving Finch its "irrelevant" numbers for people in danger, which include a U.S. naval officer in town for Fleet Week. However, with so many sailors flooding the streets of New York City, finding the officer in time presents an even bigger challenge for Reese and Shaw. Meanwhile, Carter has been demoted to a patrol officer as a result of her being set up by the corrupt police crime organization HR, and sets a plan in motion to eradicate them for good. Also, Root tests the boundaries of her new surroundings at Stoneridge Hospital, a psychiatric facility.
Origin of the Title
Liberty refers not only to the new freedom the Machine is experiencing, but to the naval term for shore leave: freedom to leave a ship and enjoy the pleasures on land.
Main Plot Points
Sameen Shaw is now part of the team in The Library who are working the numbers again while Root has been institutionalized by Finch for retasking by the Machine. Finch is concerned about Shaw's violent methods.
Detective Joss Carter has been demoted to police officer uniform duty.
The POI Jack Salazar is a good guy who gets pulled into trouble trying to protect his shady friend, Petty Officer Third Class, Robert Johnson Phillips, who is involved in smuggling diamonds.
Carter is shown to be running a secret investigation into HR and has secretly hidden Carl Elias.
Phillips is kidnapped and strapped to a bomb by some Devil Dogs trying to fence their smuggled diamonds. Reese and Shaw intervene. Finch and Fusco have to play Bomb Squad to defuse the bomb.
Elias through Carter helps Reese find the fence for the diamonds.
RIP tries to blow RJ up when he finds out Finch and Fusco are on to him, but Fusco cuts the wires to the detonator in time saving their lives.
The Machine is confirmed to be giving out the Relevant and Irrelevant numbers again.
Root is now called "Analog Interface" by The Machine".
Episode Notes
The episode takes place during "Fleet Week", an annual tradition where U.S. Navy, Marine Corps and Coast Guard ships returning from deployment dock in major cities' ports for a week. The sailors on board enjoy shore leave, while the ships are often open to the public, and military activities such as air shows take place. The tradition began in San Diego in the 1930's and has expanded to major ports on both coasts as well as in Hawaii. Fleet Week generally takes place in late May.
In the online episode commentary, the writers note that the decision to set the season opener during Fleet Week was an homage to the show's new time slot following NCIS and NCIS: Los Angeles.
The episode features what is known as "Cinderella Liberty". Each sailor may leave, then must return to the ship and check in with his buddy before midnight. Shaw indirectly refers to the fairy tale Cinderella when she says "Time to get your friend back to the ship before he turns into a pumpkin."

Root has been assigned a new box and her designation has been changed to "Analog Interface", referring to the way in which the Machine now communicates with Root. According to the writers, the new box is an indication that Root, while not an Admin, is the only person who can communicate directly with the Machine.[1] Over time, Root becomes the voice of the Machine as well.
Acronyms and Vocabulary
The episode features a number of familiar nicknames for sailors and Marines, including "squid" and "swab jockey" (for sailors) and "jarhead", "leatherneck" and "devil dog" (for Marines).
Near the end of the episode, Salazar and Reese talk about Salazar's future, and the possibility of his completing BUD/S and becoming a Navy SEAL. BUD/S is the acronym for Basic Underwater Demolition/SEAL training, one of a series of courses of training potential SEALs must complete.  
At one point, Shaw tells Finch that an operation has gone "pear-shaped". This is a traditionally British expression for a situation that has gone horribly wrong.
Production Notes
The scene of the bar fight was filmed at the Landmark Tavern on 11th Ave.
The exterior of the deli that housed the underground club was located at 114th St. and Nicholas Ave. in Harlem.
Bloopers and Continuity Errors
When Shaw takes off her disposable gloves after removing the bullet from Jack Salazar, she takes off her left glove first. In the next scene, she takes it off again.
The NY license plate on the van that is used to abduct the diplomat's son in the beginning of the episode is the same as on Finch's town car (LXQ 2038). The same plate is shown on the stolen BMW that Reese uses to rescue Jack from the special forces team trying to abduct him.
When Reese finishes cloning Jack's phone, he holds his phone upside down.
On Carter's list of HR members, Patrick Simmons is labeled as a detective instead of an officer.
After Finch's request that Shaw "complete [her] tasks without so much violence," Shaw can clearly be seen saying something, but it is not heard.

On a related note, when this scene was shown in the trailers for this episode, Shaw can be heard saying "When you're a hammer, everything looks like a nail." in response to Finch.

In the final scene, when Reese is talking to Salazar in the bar, Salazar admits that "I was forced to join [the navy] in the first place", and Reese replies ""You think you're the first kid to have to stand in front of a judge and pick door number 2?" They seem to be suggesting each of them chose military service in lieu of jail. U.S. military regulations do not allow any of the armed forces to recruit people who have been sentenced to serve a jail term if they do not enlist.
Music
Trivia
This is currently the only season premiere episode to feature a full-length title sequence.
The music playing in the hidden bar is "She's Long Gone" by The Black Keys, the same music played in the ending scene of "

Masquerade

". When Jack enters the cab, Finch asks Shaw if she can follow and she replies "He's long gone".
There is no actual aircraft carrier named the U.S.S. Colorado. Modern carriers are named for prominent Americans. The USS Colorado was a battleship launched in 1921 and decommissioned in 1947. The scenes of the non-existent USS Colorado were filmed at the site of the USS Intrepid museum-ship at Pier 86 on the west side of Manhattan.
NYC's Fleet Week celebration, which began in 1984, draws some 6000 sailors, marines and guardsmen to the city. The 2013 Fleet Week was cancelled due to emergency budget cuts enacted due to the sequestration of Congress.
The sleeve insignias on the sailors are a pair of crossed keys. This designates them as "logistics specialists" (LS), a US Navy enlisted rating that was created on 1 October 2009 by the merger of the storekeeper (SK) and postal clerk (PC) ratings.
The sniper rifle Shaw takes from the Marine sniper and later uses in the pawnshop shootout is a RFB Kel-Tec RFB bullpup style 7.62 mm equipped with a flash suppressor, sniper scope and bipod.
In the horse carriage scene, Kevin Chapman was actually driving the carriage himself. This scene did not take place in Central Park, but was filmed in Harlem.[2]
The stuntman who played the Marine sniper is a real life military sniper.
Reese again refers to himself as "concerned third party".
Root's alias in the psychiatric hospital where Finch has had her placed is "Robin", another bird reference.
After Root informs Dr. Carmichael that she is arguing with the Machine over whether or not she should kill him, the Machine displays a graphic showing the probability of his death at 78.09%.
Root's Object ID from the final scene (The Machine's prediction generation) is "001.548.25.MPPS". This is changed to "651.025.68.HSHW" in "

Lady Killer

".
The same graphic shows the probability of the death of Admin at 12.54% as well as the probability of other events such as a Mass Casualty Event (probability about 9%) and a Global Thermonuclear War (over 2%).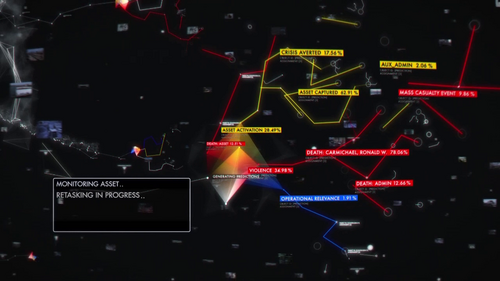 Quotes
"They never say thank you." (Reese)
"Thanks, Carter. For what it's worth, you're looking kinda badass in that uniform." (Reese)
"Fleet Week... An annual deluge of drunken sailors that somehow does not qualify as a military attack." (Finch)
"All hands on deck." (Reese)
"I have a direct line to a higher power. It speaks to me." (Root)
"I caught this one flashing his junk in the park again, all excited about the randy sailors in town." (Carter)
"Could shoot you or save you. Frankly, I could go either way." (Shaw, to Salazar)
"You can't be something you're not." (Reese)
"Aww, but it's a shame to waste a rifle like this on kneecaps!" (Shaw)
"Harold, the exchange went pear-shaped." (Shaw)
"Whoa! Never a dull moment with you guys." (Fusco)
"Hey, Reese, no offense: If the vigilante thing doesn't work out I'm not really seeing a future for you in conflict resolution." (Shaw)
"You gonna ambush somebody, use a muzzle suppressor. Losers." (Shaw)
"I would have taken a head shot, but Finch gets annoyed when I kill people." (Shaw)
"You think you're the first kid to have to stand in front of a judge and pick door number 2?" (Reese)
"The truth? The truth is a vast thing. I see that now. Just how much truth there is. Where would we even begin? The truth is, you are not very smart. In fact, you're only the 43rd smartest person in this building." "43rd? Okay, did your... your voice tell you that? That's based on what?" "Every standardized test you ever took, averaged together, not including your medical boards, which you cheated on. The truth is, you smoke an average of nine cigarettes a week in the parking lot when you think no one's looking. The truth is that you visit a massage parlor once or twice a month, that you pay for it with crisp $100 bills that you get out of the cash machine at the 7-Eleven across the street. The truth is that you fantasize on online forums about having sex with some of your patients. Though not me... yet. I guess I'm not your type. The truth is, God is 11 years old, that She was born on New Year's Day, 2002, in Manhattan. The truth is that She's chosen me, and I don't know why yet. That for the first time in my life, I'm a little scared about what's gonna happen. The truth is, I'm stuck here for now, and the only dialogue you need to be worried about is between me and Her, which is why you might want to give me my phone back. Because I'm having an argument. Would you like to know the truth, doctor? About what we're arguing over? Whether or not I'm gonna kill you." (Root)
Media
Episode with Commentary by Greg Plageman and Denise The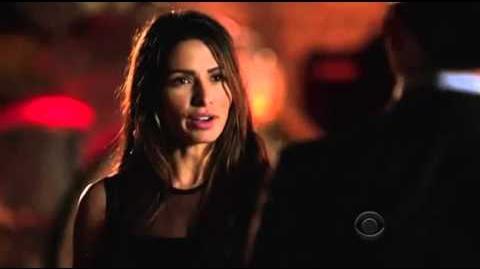 For season 3, a one page graphic comic of a key scene from each episode, illustrated by DC Entertainment, will be released by the writers.[3]
References