Michael Emerson portrays Harold Finch. He is best known for his portrayal of Benjamin Linus on Lost.
Biography
Born in Cedar Rapids in 1954, Michael Emerson graduated from Drake University in 1975 after studying art and theatre. After moving to New York, Emerson worked in retail and illustration after failed attempts at finding acting jobs. His first big break came in 1997 while playing the role of Oscar Wilde in the Off-Broadway play Gross Indecency: The Trials of Oscar Wilde, followed by roles opposite Uma Thurman, Kevin Spacey and Kate Burton.
2001 brought Emerson to his television fame after winning an Emmy Award for Outstanding Guest Actor in a Drama Series for his role as serial killer William Hinks on The Practice. In 2004, Emerson portrayed Zep Hindle in the horror movie Saw and as Victor in the comedy Straight-Jacket.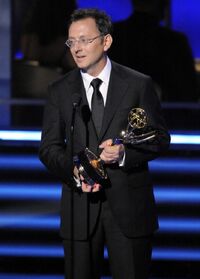 In 2006, Emerson flew to Hawaii to guest-star in three episodes of Lost in the role of Henry Gale. Following an extremely positive reaction from the writers and producers of the show, Emerson's arc was expanded with additional episodes. Revealed to be the leader of The Others in the season 2 finale, Emerson joined the main cast starting the third season, and remained with the show until the series finale. Emerson's character, Benjamin Linus, played an integral part in the overall mythology and story lines of the show. His portrayal earned him Emmy nominations for Outstanding Supporting Actor in a Drama Series in 2007, 2008, 2009 and 2010. Emerson won a Saturn Award for a Best Supporting Television Actor in 2008, and an Emmy Award in 2009. Following the end of Lost, Emerson was cast in an NBC drama series titled Odd Jobs alongside fellow Lost actor Terry O'Quinn. While a pilot was ordered, it was never filmed due to Emerson's casting in Person of Interest.
Selected Filmography
Films
Year
Title
Role
2004
Saw
Zep Hindle
2004
Straight-Jacket
Victor
2005
The Legend of Zorro
Harrigan
2008
Ready? OK!
Charlie New
Television
Year
Title
Role
Episode(s)
2000-2001
The Practice
William Hinks
6 episodes
2002
Law & Order: Criminal Intent
Gerry Rankin
"Phantom"
2002
The X-Files
Oliver Martin
"Sunshine Days"
2004
Law & Order: Special Victims Unit
Allan Shaye
"Ritual"
2006-2010
Lost
Benjamin Linus/Henry Gale
61 episodes + 2 mobisodes
2011-
Parenthood
Andy Fitzgerald
"Amazing Andy and His Wonderful World of Bugs"
2011-
Person of Interest
Harold Finch

Series Regular
Notes
Videos