Jurassic World: Dominion Dominates Fandom Wikis - The Loop
Play Sound
Mors Praematura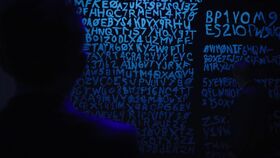 ---
---
---
---
---
---
---
"
Most of the time, I'm told what to do a second before I have to do it. The big picture, that's hers.
"

— Root
"Mors Praematura" is the sixth episode of season 3, and the 51st produced hour of Person of Interest. It originally aired on October 29, 2013.
Synopsis
Freed from her psychiatric ward confinement, Root receives a directive from the Machine that requires Shaw's assistance – by any means necessary – and takes extreme measures to gain her compliance. Also, Reese and Finch look for clues as to why a mild-mannered estate investigator's number has come up.
Origin of the Title
Mors praematura the Latin medical term for premature death.
Main Plot Points
Root reveals to Sameen Shaw that The Machine is using her for another purpose other than pursuing the Relevant Numbers or Irrelevant Numbers which is to protect the Machine itself.
Finch goes undercover with Sloan, an estate investigator for the New York Public Administrator. Sloan starts to investigate the murder of his foster brother, Jason Greenfield. This is the first appearance of Jason Greenfield, who is rescued from Vigilance by Root and this is the first time the name Vigilance is used.
Root kidnaps Shaw and convinces her to go on a mission inherent to the survival of the Machine. Shaw reluctantly acquiesces.
Reese's protection of Sloan from Vigilance and Root's protection of Greenfield converge.
After Shaw saves Root when the mission is complete, Root is locked in a Faraday cage in the Library by Finch.
Carter continues her surveillance of HR while Mike Laskey starts to develop doubts about his bosses when they make him bury a friend. Laskey disillusioned reveals to Carter that he is Russian and HR is hoarding millions.
Episode Notes
Production Notes
Production of this episode was shut down for a day by the Mayor's office when numerous citizens called 911 to report men with automatic weapons in the area of 47th St. and 5th Ave. Reportedly, the day's shooting was ahead of schedule and the NYPD supervisors who are required to be on scene for any exterior shots involving firearms had not yet arrived, leading to the shut-down.
Bloopers and Continuity Errors
In Jason Greenfield's apartment, Timothy Sloan talks about his foster brother while holding a framed photo of himself and Jason. On the table, there are two piles of books: on top of the left pile is a book with a yellow cover, and on top of the other is a book with an orange cover. Both have the front cover up. But as Timothy puts the photo frame on the table, the yellow book from the first pile shows the backside of the cover, and the top book from the other pile as a slightly different color.
Sarah Shahi's tattoo "Wolf" can be clearly seen on her left hand when Shaw takes Root's earpiece out at the CIA drop site.
Music
Trivia
Quotes
"Miss Shaw may be violent and uncommunicative, but she is never tardy." (Finch)
"I suppose it's too much to hope she tased herself." (Finch, about Shaw)
"Energy and persistence conquer all things -- Benjamin Franklin." (Collier to Reese).
"We become what we behold. We shape our tools, and thereafter our tools shape us. -- Marshall McLuhan" (framed quote on the wall of Jason Greenfield's apartment)
"How can you be so certain, Ms. Groves, that the Machine does not wish you to be precisely where you are?" (Finch to Root)
Media
References