Pete Matheson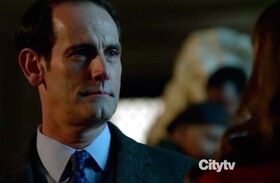 ---
---
---
| | |
| --- | --- |
| Occupation | Campaign manager |
---
| | |
| --- | --- |
| Residence | New York, NY, USA |
---
---
---
Pete Matheson was Congressman Michael Delancey's campaign manager/business partner. Matheson was secretly cutting corners and accepting payoffs, resulting in the DA's office quietly preparing an investigation into his activities. Learning of this, Matheson hires hacker Root and an assassin to kill Delancey so he can frame his corrupt activities upon him.
Matheson's assassin kills Delancey and Root frames Scott Powell for the murder. However, John Reese intervenes and prevents Scott from being killed to complete the cover-up. With the help of "fixer" Zoe Morgan, Harold Finch figures out that Matheson was the one behind the killing. Morgan than approached Matheson at a vigil for Delancey, offering him her services and revealing her knowledge of what he'd done. Shaken, Matheson called Root who assured him she would handle it and to have his final payment ready. Unknown to Matheson, Finch was nearby using a forced pairing of Matheson's phone to record the conversation. After Reese killed Matheson's assassin, Finch sent the recording to Detective Joss Carter, exonerating Powell.
After learning of Matheson being exposed, Root murdered him and made it look like a suicide, telling Finch later that it was to tie up loose ends.