Plan B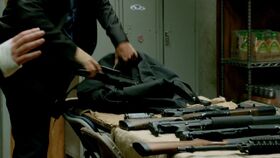 ---
---
---
---
---
Plan B is a bag of weapons that makes several appearances throughout the seasons.
Origin
The bag and its content first belonged to Anton O'Mara and his gang, who were involved in weapons trafficking.
Before trying to rescue Michael Pope from being killed by a group of corrupt cops, Reese realized that he would need "more than a cell phone". He declined Finch's, offer to supply him with legally purchased weapons as he feared they could be traced. Reese surprised Anton and his gang, shooting all of them but Anton, and took several guns and the bag from them. ("Pilot")
Appearances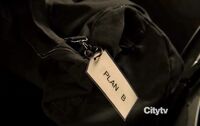 In "Wolf and Cub", the bag is first referred to as "Plan B" when Reese needed to weapon up after the person of interest he was protecting ran off to avenge his brother's death.
"

Finch: "In other words, the idea of letting a 14-year-old hire you to avenge his brother has backfired?"
Reese: "You can lecture me later. Right now I need you to bring me the bag."
Finch: "Which bag?"
Reese: "The one labeled "Plan B"."

"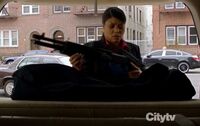 In "Flesh and Blood", Reese hands the bag over to Carter so that she can protect herself against Elias trying to kill several Mafia dons. Fusco, whom Carter asked to be her backup, doesn't know where the bag and the guns came from and jokingly asks if she was about to ship back to Iraq.
In "The Contingency", it is revealed that Carter was still in possession of the bag when she helped save Reese's life by shooting Titus with a gas gun before he could strangle Reese. Carter returned the bag to Reese afterwards.
In "Prisoner's Dilemma", Finch can be seen holding a DefTech 1315 37mm while preparing to break Reese out of Rikers Island.
In "Endgame", Shaw hands the bag over to Carter to support her in her fight against HR. Later in the same episode, Fusco has the bag after Carter left him with the key to her safety deposit box.
When Reese and Finch leave the Library in "Deus Ex Machina", Reese can be seen holding a bag which appears to be Plan B.
In "YHWH", the bag is seen with Reese when he defends the electrical substation in Brooklyn from Samaritan's operatives while Finch and Root tries to extract the core heuristics of the Machine into the briefcase.
Contents
Among others, the following guns are stored in the bag:[1]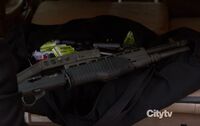 References