Jurassic World: Dominion Dominates Fandom Wikis - The Loop
Play Sound
Reasonable Doubt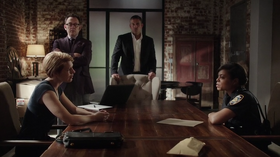 ---
---
---
---
---
---
---
"
As of this moment, we are your judge and jury.
"

— Finch
"Reasonable Doubt" is the fourth episode of season 3, and the 49th produced hour of Person of Interest. It originally aired on October 15, 2013.
Synopsis
The team gets the number of a prominent New York lawyer and has to determine whether she orchestrated the death of her recently murdered husband, or if she is being framed. Meanwhile, Carter faces an issue with her new partner, Laskey, after he spots her with the Man in the Suit.
Origin of the Title
The name of the episode comes from the criminal law principle that a defendant must be found guilty "beyond a reasonable doubt".
Main Plot Points
Bear goes undercover to save a Veterinarian.
Vanessa Watkins, former prosecutor for the D.A., reports her husband, Jeremy Watkins, dead and becomes a suspect in his murder.
Mike Laskey is revealed to be working for HR and reports to Raymond Terney that Carter is beginning to trust him and has a new boyfriend.
Watkins had planned with her husband to fake his death and escape their debt and run away together. Her husband had different plans including disposing of his wife and running off with her best friend.
In the final scene, Reese allows the couple to settle the argument with guns which is a departure from their previous policy of protecting even criminals. Despite Vanessa's deception to the team regarding conspiracy with her husband throughout the episode, she was framed by her husband and only considers murdering someone when she figured out her husband has turned against her and then about her husband's infidelity. This episode is inconsistent with Finch's policy of preventing crimes of passion. See Til Death in Season Two.
Episode Notes
Ketamine is a general anesthetic used in human and veterinary medicine. When used as a recreational drug, it acts as a hallucinogen, with effects similar to PCP.
The book under discussion at the book club meeting is "Lolita" by Vladimir Nabokov. First published in New York in 1958, the novel was highly controversial for its erotic content and its middle-aged protagonist's obsession with his 12 year old step-daughter, with whom he eventually becomes sexually involved. The novel is considered a literary classic both for its story and its writing style, and the name "Lolita" has become a common euphemism for a sexually precocious adolescent girl.
The ending of this episode has similarities to that of Cura Te Ipsum, the fourth episode of Season 1. In each case, Reese confronts the perpetrator, whose eventual fate is not revealed to the viewer. However, unlike the first season episode, where we do not see the outcome of Reese's choice whether or not to kill Andrew Benton himself, Reese's decision to leave a gun for Jeremy Watkins as his wife holds him at gunpoint, then walk away is clear. Instead, the viewer does not know who fired and the results of the two gunshots which are heard as the boat drifts on the river.
Reese's actions also run counter to Finch's insistence in the previous episode that the team does not judge the victims whose numbers they receive; they just save them.
Production Notes
Sarah Shahi tweeted that Shaw was originally to have appeared with Reese in the scene with the vet, but was written out and replaced by Finch when Shahi developed strep throat.
Location filming included Battery Park City Esplanade, Bowling Green Park, and aboard the charter yacht "Justine" at North Cove marina.
Bloopers and Continuity Errors
When Vanessa approaches Scott Rollins' SUV it has tinted window visors. When the scene cuts to the front view and Reese pops up, the visors are not present. They reappear when the police find the SUV on the street.
The chain of custody information on the bag containing the blood sample is blank.
In the scene on the boat Reese's suit is buttoned, but after he places his gun on the table, it is open.
After the 'trial', Carter discovers the scratched picture of Jeremy. She says Vanessa scratched the photo before she found out about him being alive or the affair with Nicole, but how is she sure of this. There is no evidence to show this.
Music
Trivia
The social media site Friendczar, previously seen in "

One Percent

", appears in this episode when Finch accesses Vanessa's friend Nicole Spencer's page. Writer Melissa Scrivner-Love wrote both episodes. 
The search engine fetchandretrieve.com makes another appearance.
Finch mentions a tip he received from Zoe Morgan about an illegal gambling ring. He calls the NYPD about it under the alias "Mr. Swan", another bird reference.
The story of the disappearance of Jeremy Watkins is printed in the New York Journal, the paper that former POI Maxine Angelis works for.
Based on her bank account statement at OneState Bank, Nicole Spencer has a subscription to "The Boroughs Magazine", the same magazine for which Grace Hendricks designs cover art.
This is the second episode this season in which the crime was not prevented; the other was "

Nothing to Hide

".
In the audio intercept of the 911 call by Vanessa Watkins, the Machine generates her Object ID: SL32.11A4.001.01.
Shaw uses the alias Carmen when going to Nicole's party. This could possibly be a reference to Sarah Shahi's character Carmen from the TV series The L Word.
Quotes
"We're merely a couple of concerned dog owners" (Finch)
"Bear likes his new vet"  (Reese)
"Detective Terney seems a little… tense"  (Laskey)
"Miss Watkins has already proven herself practiced at the art of deception. She is beginning to remind me of you, Mr. Reese." (Finch)
"You think I would be standing here in uniform if the system always worked?" (Carter)
"Bad guys always run" (Shaw)
"We really don't wager on whether our number are victims or perpetrators." (Finch)
"Are you sure you'll fit in?" (Finch, to Shaw regarding the book club)
"Bunch of pseudo-intellectual trophy wives" (Shaw)
"Up to me, I shoot your sorry ass. Unfortunately it's not so I have to protect you because your best friend might be on her way here to kill you. Now, what's this book about?" (Shaw)
"Who was that man in Washington Heights… in the suit?"  (Laskey, to Carter)
"I'm sure Miss Shaw has had enough Chardonnay and Nabokov for one afternoon"  (Finch)
"Have you ever had to start your life over because someone was trying to kill you?" (Vanessa Watkins, to Reese)
"Hard to save your marriage after you frame your wife for murder." (Reese)
"I'm in the business of stopping bad things from happening. I'm not so sure what's about to happen is a bad thing."  (Reese, to Vanessa and Jeremy)
Media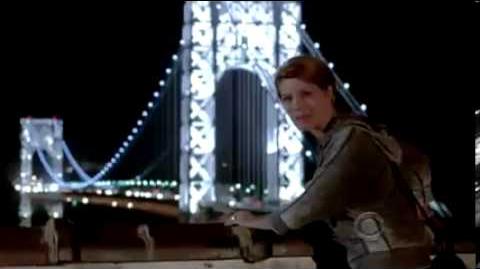 Graphic comic page for "Reasonable Doubt"
References