Samuel Douglas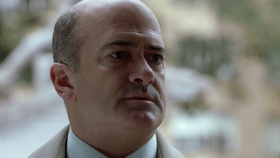 ---
---
---
Occupation
Head of crisis management
---
---
---
Samuel Douglas was an executive in charge of "crisis management" for Virtanen Pharmaceuticals.

He did all the dirty work for Mark Lawson and Robert Keller. He had probably killed Dana Miller, a former employee at Virtanen who wanted to blow the whistle on them, and Anthony Talbott, a journalist who had blackmailed Virtanen about the same issue.
Douglas came to the attention of John Reese when he targeted fixer Zoe Morgan, the next number given to Reese by the Machine. Douglas captured the two as they discovered the extent of the corruption in Virtanen regarding the Sylocet drug and was left behind to kill Reese while Lawson went with Zoe to get a copy of the report on the trial drug she had sent someone. Douglas attempted to murder Reese with an injection of potassium chloride, but Zoe had slipped Reese a paperclip with which he picked the lock on his handcuffs. Reese then overpowered Douglas and killed him with his own lethal injection. ("The Fix")
Community content is available under
CC-BY-SA
unless otherwise noted.