Theresa Whitaker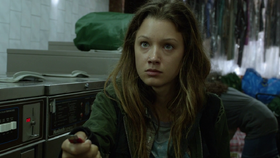 ---
---
---
---
| | |
| --- | --- |
| Date of birth | March 7, 1992 |
---
| | |
| --- | --- |
| Residence | New York, NY, USA |
---
---
---
Theresa Whitaker is a teenager whose family was murdered following a land deal gone wrong. After her family was murdered, Theresa began living on the street and started making a living by using a skimmer machine on ATMs.
When Jimmy Calhoun found out that Theresa was alive, he hired an assassin to finish the job. Reese found her first but she slashed his hands with a switchblade and ran away. Reese tracked her down again and convinced her to stay with him at his safe house. Reese leaves Theresa with Finch at a hotel where they bond over the fact that they have both lost loved ones. Finch tells her about her aunt and how she still loves and misses her.

The assassin tracks them down to the hotel but Reese arrives at the last second and shoots him down. She later has a tearful and joyful reunion with her aunt.