Tommy Clay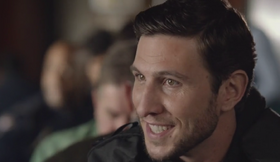 ---
---
---
Occupation
Armored Truck "Hopper"
---
Residence
New York, NY, U.S.
---
Family
Joyce (wife)
2 young sons
---
---
---
Tommy Clay works as a "hopper" for Grayling Armored Truck Services.
Having grown disillusioned with his life and his career, Clay planned an elaborate heist of his own armored truck while it was transporting platinum with the help of HR. He shot and killed his best friend and co-worker Murray Langston and injured Reese during the robbery.
Clay betrayed HR, killed his partners-in-crime, Frank Lowell and Mick Norton, stole the platinum and planned to run away with his girlfriend, Ashley. It turned out that Ashley had coerced Tommy into performing the robbery and that she was the real brains behind the operation. Ashley double crossed Tommy and shot him dead moments before Fusco and Artie Lynch arrived killing Ashley and taking the platinum.
Afterwards, Finch and Reese contemplated the case and wondered what they ended up getting out of it. Reese concluded that they prevented Tommy from getting away with murder if nothing else.
Community content is available under
CC-BY-SA
unless otherwise noted.