Jurassic World: Dominion Dominates Fandom Wikis - The Loop
Play Sound
Triggerman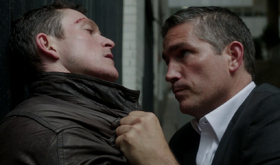 ---
---
---
---
---
---
---
---
| | |
| --- | --- |
| ID(s) from Intro | ID.008/2720.10 |
"
You gave him the strength to walk away from the only life he knew, to be better. He said you were the best thing that ever happened to him.
"

— Reese, to Annie
"Triggerman" is the fourth episode of season 2, and the 27th produced hour of Person of Interest. It originally aired on October 25, 2012.
Synopsis
When The Machine gives them the number of a mob enforcer whose life becomes endangered, Reese and Finch must decide whether to intervene or allow karma to balance the scales of justice. Meanwhile, Finch seeks aid from an unlikely source.
Origin of the Title
A triggerman is a gangster who specializes in gunning down people.
Main Plot Points
Reese is assigned to mob enforcer Cavanaugh who works for Irish mob leader George Massey.
Cavanaugh is order to kill Annie Delaney with whom he is having a secret affair.
Cavanaugh shoots Eddie and tries to run off with Annie. Carter and Szymanski investigate Eddie's death.
Massey puts out a million dollar bounty on Riley and Annie's head.
Harold Crane meets Elias and requests help to shut down the hunting party. Elias complies in exchange for a chess partner.
Carl Elias is able to run his criminal organization from prison. He still has gratitude toward Reese and Finch. ("

Flesh and Blood

")
After a shootout at the Pearl, Annie is saved.
Episode Notes
The writers are reluctant to show Reese actually killing anyone outright at the end of an episode since Cura te ipsum. The implication is that no one gets away with their bad deeds, but whether Reese actually kills them or sends them to a Mexican prison is left to the viewers discretion. There is however the implication from the sound of a silencer gunshot.
Production Notes
Bloopers and Continuity Errors
When the bouncers throw John from the bar, the first shot contains no construction on the sidewalk, but it appears after the stunt double's roll.
When the bouncers throw Reese from the bar, the car on the curb changes between shots of his stunt double.
The same car is parked outside Massey's pub 22 hours later, but it's a 4 hour parking zone.
The car Eddie Massey has his accident in has visible rollbar pipes inside.
When Riley enters the nightclub, he's armed with .38 caliber revolver, his usual weapon. Later in the gunfight, after ordering Reese to get Annie to safety, he's armed with a pistol instead.
Music
"The Greatest" by Cat Power - End of the episode  
Trivia
The episode was previously titled "The Hit".
Quotes
"I'm going in." (Reese) "Is something happening?" (Finch) "Yeah. Lunch." (Reese)
"No. Not until I've had my morning coffee." (Carter to Reese)
"Then why are you wasting time on Riley? He's a killer, he's just . . 'bad code'." (Finch to Reese)
"No one's gonna miss either one of us." (Riley to George)
"It means a flawed design. The term applies to machines, not to people." (Finch regarding "bad code")